The Ganesh Himal Charity Trek 2023
JOIN US!
 Oct 30 – Nov 12, 2023
Nov 13 – Nov 26, 2023
$3995 USD P/P
(Plus a fundraising goal of $1000 Usd p/p)
Join the Active Hearts Foundation on the front line! Experience traditional Nepalese village life on a 14 day all-inclusive hiking and charity filled adventure through the Ganesh Himal region of the Nepalese Himalaya       
Heartspace Expeditions works alongside the Active Hearts Foundation to provide the unique opportunity to experience the world's most spectacular hiking destinations while giving back to the people that call it home.
Does this sound like your sort of adventure?
Contact us to express your interest
Scroll down for more info..
   
The Heartspace Ganesh Himal Charity Expedition includes:
Heartspace Expeditions trip Leader and Active Hearts Foundation founder Dan Keys.
Active Hearts Foundation project manager and Heartspace Expeditions Lead guide Arjun Adhikari.
The Heartspace Expedition mountain support team
All Domestic Airport transfers
Two nights in our Kathmandu Hotel twin share and two nights in our Pokhara Hotel twin share
All relevant camping expedition equipment and permits for 10 days
Transport in private tourist vehicles from Kathmandu to Gogane and from Dading Besi to Pokhara
Fixed wing flights from Pokhara to Kathmandu
Not included:
International Flights to Nepal
Travel Insurances
Single supplement requests for Kathmandu and/or Pokhara accommodations
Additional trail extras outside meals ie beers, sodas, coffee café snacks, souvenirs etc
Tipping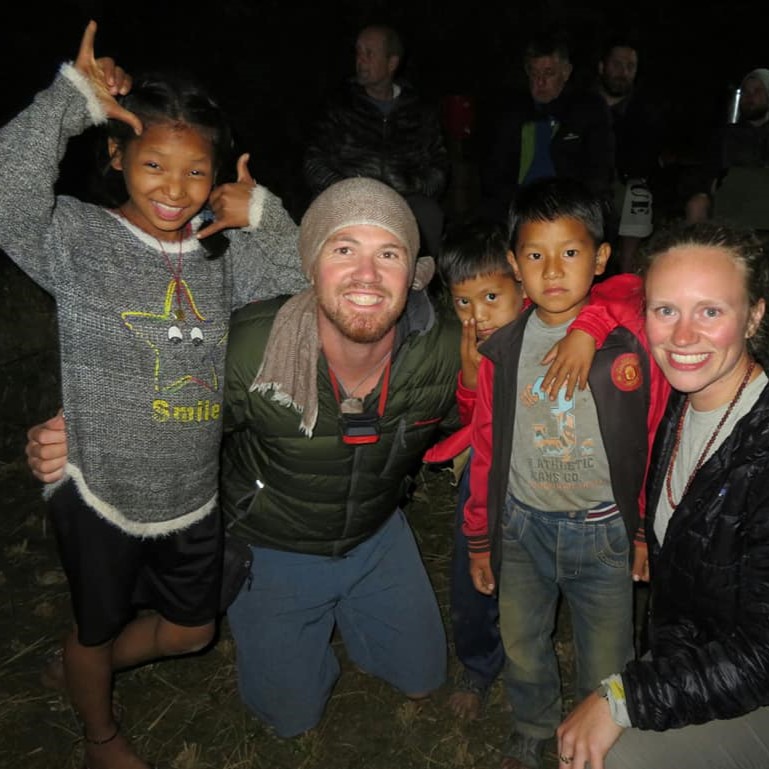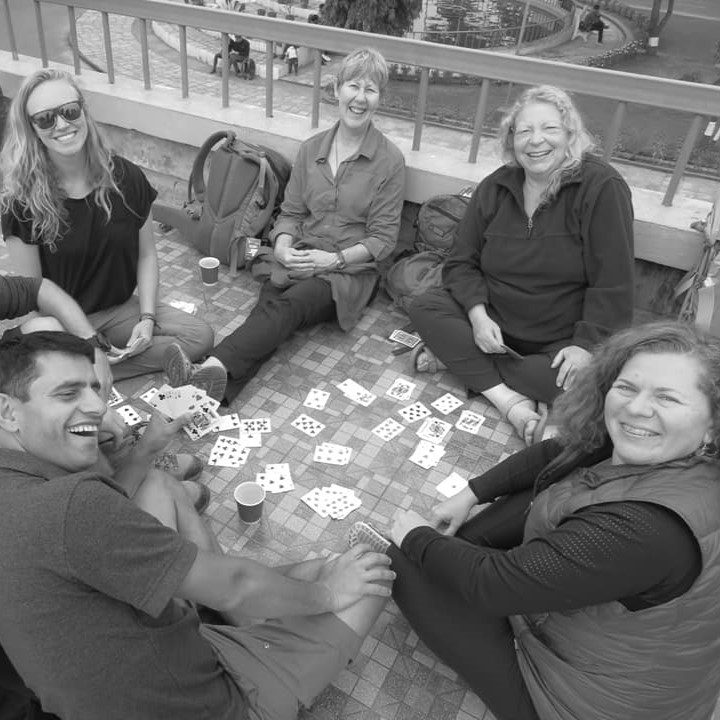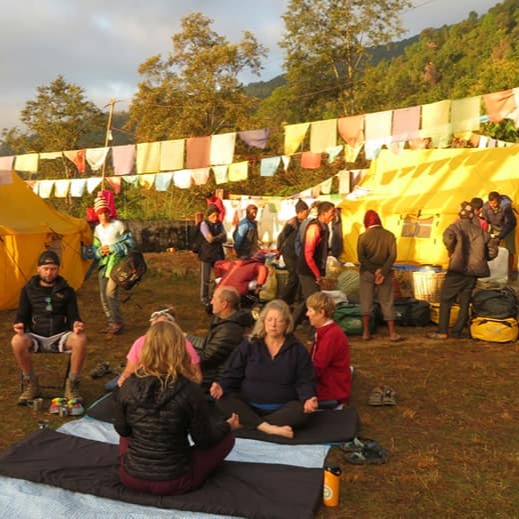 Itinerary:
Day 1 – Arrival in Kathmandu and meet our airport transfer to the hotel. Relax and enjoy a swim in the roof top pool. We meet for a team briefing in the lobby at 5pm followed by dinner at one of our favourite restaurants. 
(Beautiful Kathmandu Hotel, D)
Day 2 – After breakfast at the hotel we depart Kathmandu in our private van for the Nuwakot district. Approx 5 hrs drive. After lunch in Sadtobate we will visit the Shree Gyan Jyoti Active Hearts Library (est. 2015) before hiking into beautiful Gogane village 1hr.
(Gogane homestay camp 1500m – B, L, D)
Day 3 – Our team will wake you with a hot drink in your tent. A delicious organic breakfast will be taken looking up at the amazing Langtang range. After we will hike the Active Hearts pipeline project (est. 2015) to Taji village 2.5hrs. After a traditional village lunch we descend to to Gogane Primary School 1hr. We will have a chance to visit the Active Hearts Gogane Library (est. 2022) and enjoy a small performance by the students.
(Gogane family camp 1500m – B, L, D)
Day 4 – After another yummy breakfast we farewell our Gogane family and begin the hike to Thulogaun 4 hrs. Along the way we visit Khule village. Here is home to Aiselu Lower Secondary school and the Active Hearts Khule Library project (est. 2016)
(Thulogaun ridge camp 1845m – B, L, D)
Day 5 – Today we hike a stunning trail around the terraced fields to Salme village 3.5hrs. Lunch will be served on arrival. This afternoon we can relax and enjoy the amazing vistas. There will be an opportunity to visit the Active Hearts Salme High School Library project (est. 2019) Tonight we will have a campfire under the stars!
(Salme school camp 1860m – B, L, D)
Day 6 – We farewell the people of Salme village and venture onto to Bungtang village 4hrs. Lunch is on arrival then there is a chance to explore the village. Maybe some volleyball with the locals! Tonight we camp in a very special place…
(Bungtang Monastery camp 1740m B, L, D)
Day 7 – This morning's hike takes us higher to Lokil 4 hrs. Lunch on arrival. The ridge above is an awesome opportunity for an amazing Ganesh Himal sunset and sunrise. 
(Lokil Sunrise camp 2200m – B, L, D)
Day 8 – After another magic morning started with a hot drink brought to your tent followed by an organic breakfast feast we hike to Marpak 3hrs. This is a beautiful ridge line walk with great Himalaya views. We will arrive for lunch enjoy the area.
(Marpak village camp 1700m – B, L, D)
Day 9 – Today is a slightly longer hike through to Charangge 5hrs. Our team will send us out with a packed lunch. We descend through local farms and cross a few streams. Perhaps even a chance for a swim for those keen? Tonight we camp on local farm land amongst the rice fields. 
(Charangge Field camp 1200m B, L ,D)
Day 10 – Hike to Dhading Besi 4 hrs. Today is mostly descending down to the big township of Dhading. We arrive for lunch and the afternoon will give you a chance to explore this centre township for the Dhading region. Tonight we have a big communal feast with all our Heartspace team followed by some Nepali campfire dancing! 
(Dhading outskirts camp 600m – B, L, D)
Day 11 – After breakfast we break camp and farewell our amazing Heartspace Expedition team. We then drive to Lake Pokhara in our private van 5 hrs. After lunch you'll have a chance to relax, enjoy the lakeside vibe or get a massage. Tonight we head to one of our favourite lakeside restaurants.
(Hotel Middle Path and Spa, Pokhara 1400m – B, L, D)
Day 12 – Today is yours to enjoy. You'll have a free day to relax and explore in Pokhara
(Hotel Middle Path and Spa, Pokhara – B *lunch and dinner your free to explore yourselves)
Day 13 –  After breakfast at the hotel we will take the beautiful 30min flight following the Himalaya back to Kathmandu city. Looking out to the north you may even recognise some of our our hiking trails. Tonight we celebrate once and for all and reflect on an adventure like no other!
(Beautiful Kathmandu Hotel – B,L,D)
Day 14 – Departure day. We will transfer you to the airport or onto your next hotel as you need. 
(Breakfast included at Hotel)