The 2015 Earthquakes
25th APRIL 2015 NEPAL CHANGED FOREVER
On Saturday, April 25 2015, at 11:56 am a massive 7.8 magnitude earthquake struck Nepal.
It was the worst earthquake in more than 80 years. The epicentre was less than 50 miles northwest of Kathmandu, the country's capital in central Nepal.
Our close friend Gareth Leonard, aka Tourist2Townie.com, documented the first few days post quake. Watch Below:
THE ACTIVE HEARTS FOUNDATION EARTHQUAKE STORY
The initial quake killed close to 9900 people and the second about 150. Approximately 22,000 people were injured and 8 million were affected. Estimates put roughly 1.1 million children in urgent need of assistance. It struck at a relatively shallow depth of 6.8 miles which contributed to its strength and resulting damage.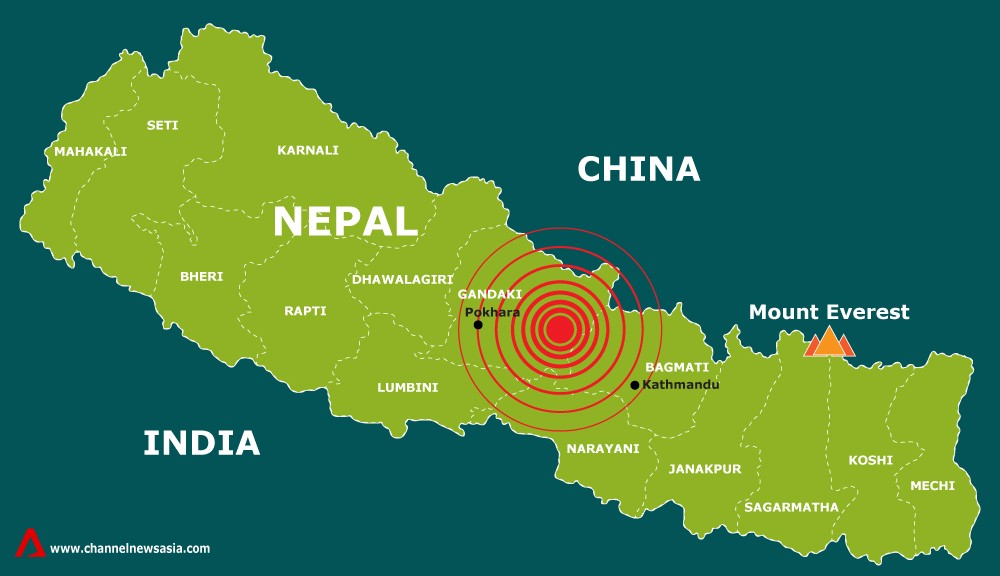 Accounts from Active Hearts Foundation Founders, Dan Keys and Arjun Adhikari
Dan in Kathmandu, "We had just landed in Kathmandu domestic airport with a group of hikers after completing the Annapurna Base Camp trek. As the group was unloading from the bus at the baggage collection area outside, I was walking into the main building in search of luggage trolleys. The first thing I noticed was a group of people running towards me from inside, followed by screaming then an intense rumble. It was very surreal how the world seemed to slow down around me. The trees began to sway violently and the walls began to crumble. I was separated from my guests, but they were quickly herded into a group by the airport soldiers. The ground was impossibly rising and falling and it was very difficult to stand. The screaming continued all around as buildings cracked and bricks fell. It felt like forever before the earthquake stopped and the rumbling subsided, leaving just the screaming and crying. I quickly gathered my group and led them to the safety of the main car parking area. As it slowly dawned on us what had just happened, we could see from our slightly elevated position that the city below had disappeared in a cloud of dust. It then struck me that this was a terrible event unfolding "
Arjun recalls from Pokhara which is 200km west, "I was in the lobby of the Pokhara Eco Hotel. We all ran outside. Many people were shouting and the noise of the earthquake was very loud. Pokhara didn't suffer much damage so I thought my village would also be OK. I called my Ama (mother) in the village and she said they were OK but our homes and the village were completely destroyed. I realised then that this was a very serious situation "
Dan remembers, "The hours then days following the earthquake and riding the subsequent aftershocks in Kathmandu were chaotic. The constant fear of the 'next big one' and the concern for family and friends were always on our minds."
While Dan worked hard to get his guests safely out of the country, Arjun headed home to Gogane, Nuwakot district which is roughly 100 km northwest of Kathmandu. He hitched a ride, but was unable to make it to his village due to unstable roads and walked the last 20 km carrying a 40 kg pack full of first aid and plastic shelters. The epicentre was in Gorka district about 18 km west of Arjun's village.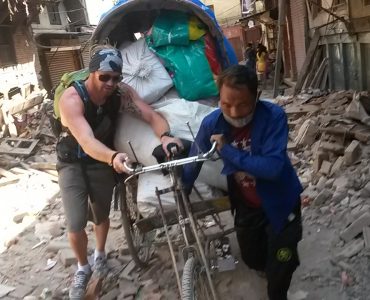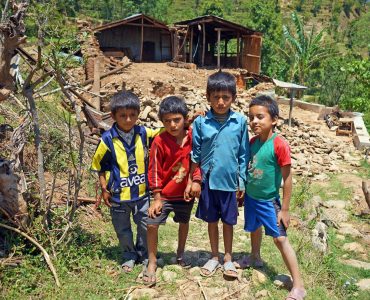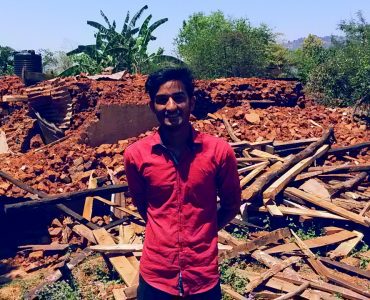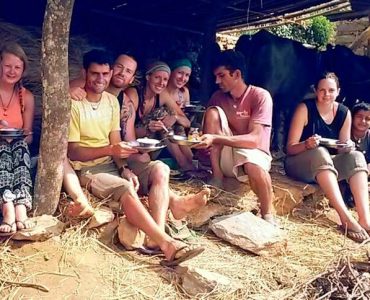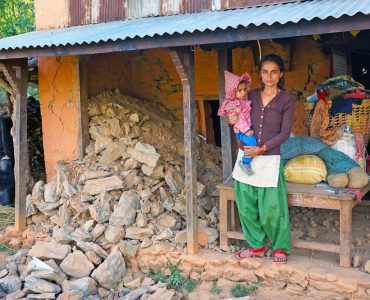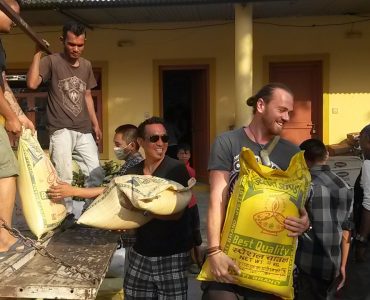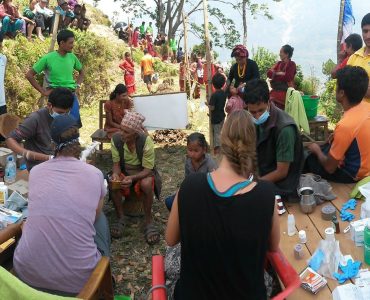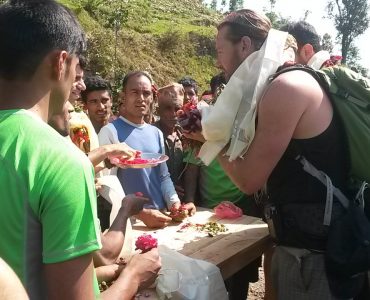 IMMEDIATE AFTERMATH
The initial quake killed close to 9900 people and the second about 150. Approximately 22,000 people were injured and 8 million were affected. Estimates put roughly 1.1 million children in urgent need of assistance.
Tribhuvan International Airport, serving Kathmandu, quickly swelled to capacity with incoming relief and fleeing travellers overloading services. All boarding lounge exit doors were opened to the tarmac as aftershocks caused travellers, security and immigration to flee to safe zones on the runways. Few airport workers were at their posts as many were either killed in the earthquake or had to deal with the after effects.
Many UNESCO World Heritage Sites were damaged or destroyed, such as the Dharahara tower, built in 1832, killing at least 180 people.
A second quake of 7.3 struck 17 days later on the 12th of May. This caused further damage and suffering to those who survived the initial disaster.
The first days after the earthquake, Arjun stayed in Gogane to build shelters out of bamboo and plastic for his extended family and neighbours as monsoon season was fast approaching.
Dan's guests had safely flown home after 3 days sleeping on the airport floor. The very first Active Hearts Foundation project, the Satdobate School Library, that was due to open in 5 days on 1st May 2015, was destroyed. All remaining funds for this project were immediately put towards emergency supplies.
Dan explains, "Friends and nurses from Alaska, flew in on the 28th of April. We  started to put together emergency relief packages for the villages of our friends close to the epicentre. Our small international team began to search out plastic tarpaulins, medicines, sleeping mats, torches, batteries, sanitary products, rope, clothing, rice and lentils. We bought a generator and had customized multiplugs and strings of lighting made. We bought hundreds of recharge cards to distribute so the villagers could call family in other areas. We sourced a jeep to transport the first load into the hills and this drove our first load out of Kathmandu towards Gogane on 2nd of May."
While one team started the arduous drive to Gogane village Dan and others stayed in Kathmandu to begin to source supplies for jeep loads to other areas. No easy feat as thousands of others were scouring the streets of Kathmandu doing the same. Immediately a massive black market for goods arose meaning prices were grossly inflated. Luckily for the Hearts team, donations had started to flood in.
THE WEEKS FOLLOWING..
During the six weeks that followed the Active Hearts Foundation raised and distributed USD$50,000 on humanitarian aid for rural Nepalese. As well as the resources we personally delivered Active Hearts also sponsored jeeps that others took to hard hit areas such as Gorkha, Dhading, Kavrepalanchowk and Solu Khumbu. A donation page was set up specifically for local guides and porters so past trekking guests could easily and safely get funds sent to them through the Active Hearts Foundation. Approximately USD $6000 was distributed through this page. They also assisted financially to the cremations of loved ones lost.
Hundreds of flyers were given explaining the dangers of human trafficking which unfortunately blossoms during disasters such as this. The crew sponsored a jeep load to Yellow Gompa in Kathmandu where the survivors of Langtang were given refuge. They helped to distribute sanitary products, food and water.
The team provided roughly 400 shelters amongst 12 villages.  These temporary accommodations could house 2500+ people. The idea was to reuse the materials for rebuilding once monsoon season had passed. READ ABOUT THE MONSOON SHELTER PROJECT
The earthquake had changed everyone's lives forever. The team departed Nepal six weeks after it had been rocked after an experience we could never forget. Those post quake days were filled with some very challenging and sad times, but also beautiful and heart warming times. The friendships forged became the foundation of the Active Hearts Foundation and those involved vowed to return to Nepal and help them rebuild.
Our close friend Gareth Leonard, aka Tourist2Townie.com, documented the first few days post quake and the adventurous trip with the first jeep load of supplies to the damaged village of Gogane. Click below to watch:
THE ACTIVE HEARTS FOUNDATION EARTHQUAKE STORY
We cannot express enough thanks to the kind folk from all over the world who fundraised and donated to our cause. Nothing would have been achieved without you generous people.
Thank you and Namaste